Blackmagic: Hyperdeck Studio Hd Mini
Miniaturized deck records H.264, ProRes or DNxHD files onto SD/UHS-II cards or external USB disks in SD/HD formats to 1080p60. Includes timecode and reference generators, 3G-SDI in/out and HDMI out.
Mastering Recorder
All models in the Hyperdeck range record to H.264, ProRes and DNx files, so are perfect for recording broadcast masters! You can even use PCM or AAC audio. You get everything you need to send shows to broadcasters and for uploading to YouTube.
ISO Recording
All models in the Hyperdeck range feature timecode and reference generators, with outputs to loop to other HyperDecks. This means you can build a rack of HyperDeck Studios for ISO camera recording, allowing multi-cam editing after live events! You can even sync cameras to the SDI output and the SDI input has a frame sync!
Digital Signage
HyperDeck Studio is perfect for digital signage as all models have HDMI output for connecting to large screen TVs and projectors. The built in sync generator lets you combine multiple HyperDecks for large multiscreen video walls. There's even FTP for file upload and a protocol for remote control!
Broadcast Archive
HyperDeck Studio supports all SD and HD standards so it's ideal for archiving old television shows from broadcast decks such as Digital Betacam, Betacam SP, 1", U-matic and VHS. You can even record direct to H.264 to maximize storage. For analog decks, just add a Mini Converter Analog to SDI!
Bright Color LCD Status Display
HyperDeck Studio features traditional deck style transport controls, including a search dial for jog, shuttle and scroll. The compact LCD shows timecode and transport information, plus a full color thumbnail preview of the current clip in record or playback. It also displays information about each card's recording status, along with video format, frame rate information and audio levels, all on the same display! The LCD includes monitoring for video, plus audio level meters, selectable between technically accurate VU or PPM ballistics. The combination of familiar VTR style controls with the built in LCD screen makes HyperDeck Studio incredibly fast to use and very easy to learn!
Supports SD Cards, UHS-II Cards
All HyperDeck Studio models support recording to common SD cards and UHS-II cards so you don't need expensive custom media. However the Pro models also add two SSD slots so you can use two different types of media! SD cards and SSDs are the perfect choice for broadcast media because they are small and very affordable. When using H.264, the files are so incredibly small you get very long recordings even on smaller low cost cards. Plus, you can even record to external USB disks! You can record up to 157 hours of H.264 recording in 1080p59.94 on a 1 TB card. That's over 6 days of recording in HD using a single 1 TB card!
Record to External USB-C Media Disks
If recording to other types of media is required, the USB-C expansion port lets you plug in an external flash disk for recording. USB-C flash disks have unlimited capacity because they can be physically larger than an SD card or SSD. Plus, it's even possible to record to a disk array you'll use for editing, so you don't need to waste time copying files before starting post production. Just move the disk over to a computer and instantly start editing! You can even add a Blackmagic MultiDock 10G that has 4 separate SSD media slots, so you can add compatibility with SSD media to the HyperDeck Studio Mini and Plus models. There are also menus for managing external disks on the built in LCD.
USB Webcam Output for Video Software
For compatibility with a wide range of computer software, HyperDeck Studio features webcam support using the USB connection. If you're not recording to an external USB disk, you can plug the HyperDeck USB connection directly into a computer to get live video into any video software. The computer is tricked into thinking the HyperDeck is a common webcam, but it's really a broadcast quality video source! That guarantees full compatibility with any video software and in full resolution 1080 HD quality. HyperDeck Studio's USB webcam feature works with any video software including Zoom, Microsoft Teams and Skype, or get live streaming with Open Broadcaster, XSplit Broadcaster and more!
Connections
SDI Video Inputs
1
SDI Video Outputs
1
SDI Rates
270Mb, 1.5G, 3G.
HDMI Video Outputs
1
Screen
2.2 inch LCD
Timecode Connections
1 x BNC In, 1 x BNC Out.
Reference Connections
1 x BNC In, 1 x BNC Out.
Tri-Sync or Black Burst.
SDI Audio Inputs
16 channels embedded audio.
SDI Audio Outputs
16 channels embedded audio.
HDMI Audio Outputs
8 channels embedded audio.
Remote Control
1 x RS-422 In.
Recorder Configuration
Via user interface or Blackmagic HyperDeck Ethernet Protocol.
Ethernet
1Gb/s
Computer Interface
1 x USB Type-C 3.0 (up to 5Gb/s) for external drive recording, webcam out, software configuration and updates.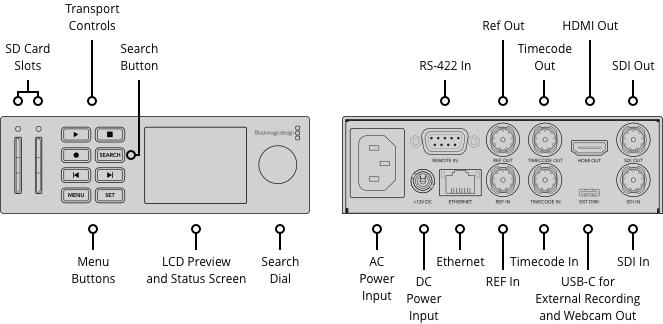 Standards
SD Video Standards
525i59.94 NTSC, 625i50 PAL
HD Video Standards
720p50, 720p59.94, 720p60
1080i50, 1080i59.94, 1080i60
1080p23.98, 1080p24, 1080p25, 1080p29.97, 1080p30, 1080p50, 1080p59.94, 1080p60
1080PsF23.98, 1080PsF24, 1080PsF25, 1080PsF29.97, 1080PsF30

2K DCI Video Standards
2Kp23.98 DCI, 2Kp24 DCI, 2Kp25 DCI,
2Kp29.97 DCI, 2Kp30 DCI

SDI Compliance
SMPTE 259M, SMPTE 292M, SMPTE 296M, SMPTE 372M, SMPTE 424M, SMPTE 425M level A and B, SMPTE 2084 and SMPTE 2108-1.
SDI Metadata Support
HD RP188 and closed captioning CEA-708. HDR Metadata supported on SDI.
Supported HDMI Formats
525i59.94 NTSC, 625i50 PAL,
720p50, 720p59.94, 720p60,
1080i50, 1080i59.94, 1080i60,
1080p23.98, 1080p24, 1080p25, 1080p29.97, 1080p30, 1080p50, 1080p59.94, 1080p60,
2Kp23.98 DCI, 2Kp24 DCI, 2Kp25 DCI, 2Kp29.97 DCI, 2Kp30 DCI
2160p23.98, 2160p24, 2160p25, 2160p29.97, 2160p30,

Audio Sampling
Television standard 24-bit, 48 kHz sample rate.
Video Sampling
4:2:2 YUV
Color Precision
10-bit
Color Space
REC 601, REC 709, REC 2020.
HDR Support
Hybrid Log-Gamma, ST2084 300, ST2084 500, ST2084 800, ST2084 1000, ST2084 2000, ST2084 4000, ST2084
Multi Rate Support
Auto detection of SD and HD.
Copy Protection
HDMI input is unable to capture from copy protected HDMI sources. Always confirm copyright ownership before capture or distribution of content.
Media
Media
2 x SD card slots 1 x USB-C 3.0 expansion port for external recording of SD, HD and 2K DCI.
Media Type
UHS-I and UHS-II SD cards.
Media Format
Can format media to ExFAT (Windows/Mac) or HFS+ (Mac) file systems.
Supported Codecs
ProRes HQ QuickTime, ProRes 422 QuickTime, ProRes LT QuickTime, ProRes Proxy QuickTime for all formats up to 1080p60. DNxHD 220x, DNxHD 220x MXF, DNxHD 145, DNxHD 145 MXF, DNxHD 45, DNxHD 45 MXF for 720p and 1080p HD formats up to 60fps. H.264 SDI 4:2:2 10-bit, H.264 High 4:2:0 8-bit, H.264 Medium 4:2:0 8-bit, H.264 Low 4:2:0 8-bit for all progressive formats up to 1080p60.
Control
Built in Control Panel
8 buttons for transport and device control with search dial and 2.2 inch color display.
External Control
RS-422 deck control, SDI start/stop, timecode run. Includes Blackmagic HyperDeck Ethernet Protocol. Supports remote FTP file upload.
Software
Software Included
Blackmagic OS Blackmagic HyperDeck Setup Internal Software UpgradeLoaded at system start, or via Blackmagic HyperDeck Setup using USB port.
Displays
Built in 2.2 inch LCD for video, audio and timecode monitoring and menu settings.
LED indicator lights above the SD media slots.
Power Requirements
Power Supply
1 x Internal 100 - 240V AC 50/60Hz.
1 x Locking 5.5mm barrel 12V DC In for external power supply or battery use.
Power Usage
50 W max.
Accessories
Optional Accessories
HyperDeck Extreme Control
Teranex Mini Rack Shelf
Physical Installation
One third rack unit width, 1 rack unit height.
Physical Specifications

Environmental Specifications
Operating Temperature
0° to 40° C (32°to 104° F)
Storage Temperature
-20° to 60° C (-4° to 140° F)
Relative Humidity
0% to 90% non-condensing
Warranty
12 Month Limited Manufacturer's Warranty.